Shopping Cart
Your Cart is Empty
There was an error with PayPal
Click here to try again
Thank you for your business!
You should be receiving an order confirmation from Paypal shortly.
Exit Shopping Cart
Kingridge Kennels English Labrador Retrievers

Intelligent ~ Calm ~ Beautiful

Neurologically Stimulated, Lovingly Socialized & Trained

What an intense 24 hours! Annie labored beautifully from 11:00 last night until 7:00 this morning. After a long sleepless night, she eventually ran out of steam. We went to the vet's for a little help, because of the slow progress. 
We knew that there was the potential for a C-Section to help save as many pups as possible. Ultimately, we did not need to have surgery, but 2 puppies were lost. It was so sad, but we are elated with the 6 beautiful newborn Labradors that we welcomed into this world during these past 14 hours. 
It was a very intense and prolonged labor, and I know Annie and I are definitely ready for some much needed rest. I will be posting more details about the puppies in this litter after I take a long sweet rewarding nap... Just like mama Annie. She deserves it! She did an absolutely stellar job, and is the sweetest mom I have ever seen. Praise God for beautiful healthy pups!
After a long slow start to labor, Annie has delivered 3 large healthy pups! She is resting in between contractions and doing a phenomenal job as a first time mama. She is so attentive and careful with her newborns. The pushing stage of labor started around 11:00, and the first pup made her arrival at 11:45. Since then, we have welcomed a new puppy approximately every 45 minutes to an hour. We are in for a very long sleepless night, and I am praying for extra strength and energy for both Annie and myself... Especially for Annie! 
*AVAILABLE for ADOPTION*
Sweet and Lovely 
'LILY'
 of the Valley
As a lover of Labradors and a breeder, some posts are so fun to write, and others are literally almost impossible to type. This is one of the most difficult ones I can imagine. At this point, I feel like my keyboard is covered in Molasses! Choosing to place a dog into a new forever family is always so hard for myself, and especially for my family, but as a breeder it is something that has to be done from time to time to move the breeding program forward.   
It is only after a great deal of  prayer and discussion, that we have decided to retire Lily from our breeding program here at Kingridge. Lily always was, and will continue to be, first and foremost, our family's very special and much loved pet. So, it is with a heavy heart that we have made this difficult decision. She has only had one successful pregnancy after multiple attempts, and as a result we feel it is ultimately best to find a new home for our special girl. 
We have raised Lily from the very start! I remember when she weighed just over a pound and fit in the palm of my hand. She was born out of the
Precious Gems of Kingridge Litter
. Her 
mother
 was our 'Shiloh' and her 
father
 'Calypso' was the Best of Breed winner at both the Westminster and Eukanuba dog shows in 2011. Lily has always lived inside our home and been a very special part of our family. 
We are looking for a loving home with humans who will pamper Lily and show her as much affection as she is used to receiving from us. She is a healthy, happy, 4 1/2 year old yellow Lab, with a stellar 
pedigree
. Lily is terrific with children (she absolutely loves kids) of all ages, cats, and other dogs. She is faithful and oh so gentle, and she loves walks and jogging next to me on the trail. She really is the epitome of the Labrador breed.
We know that another family is going to be thrilled with the addition of Lily into their family, and we are excited to get to talk with them. Lily is being adopted on a companion/pet registration only.  She will come into your home with all of her AKC papers, current on shots, and with a written agreement of  spaying by the new family's veterinarian. She is sure to bless another family as much as she has ours! It's just so hard to share the precious gem that we have found in living life with Lily. 
If you think your home may be a good fit for Lily, please email me directly at
[email protected]
or call me at (724)561-9808 so that we can talk more and see if it seems like a wonderful fit for everyone. I think Lily will transition seamlessly into a happy new home, because to love with abundant affection is her nature. Our family, and especially all of my children, will always hold such a special place in our hearts for her. Lily really is a unique and beautiful gem.
Our chocolate boys are a little over 1 month old, and today they went outside exploring for the very first time. We were thankful for such a beautiful mild and sunny day to expose the puppies to all of the new sights, sounds, and smells that go along with the great outdoors. They seemed to thoroughly enjoy every second of their romp in the yard. 
I tried to capture their first moments on video which you can watch below, but I have to apologize for my thumb getting in the way... I was so busy watching the puppies, I didn't do a very good job paying attention to what I was filming on the screen. I hope you enjoy watching these sweet little guys as much as I did. 
I also hope you are all relishing in these beautiful summer days and that you too will get a chance to frolic freely in the great outdoors, taking in the sunshine and enjoying the loveliness of God's creation.
Our summer litter has turned 3 weeks old, and they are growing in so many ways. They have been busy exploring this week, using their new found sense of hearing and sight. Although they are still always in the whelping pen close to Lily, they are walking more steadily on all fours, exploring the smells and sights of the 4 corners of the pen. 
This upcoming week will be an exciting one, because the pups will soon be experiencing their first solid meal. That also marks the start of potty-training on our end, and we will be busy keeping the whelping pen spotless in order to teach the pups that their is an appropriate place to potty. 
There is sure a lot to learn when you are a new puppy! It always amazes me how dogs instinctively know how to teach their pups. Within the next few weeks, Lily will begin to allow her puppies more and more independence, until finally they are out and about exploring this great big world on their own. However, for now, at the tender age of three weeks, the pups are still completely dependent on their mom for everything, and as always she is doing a fabulous job caring for her sons. 
These two little brothers are growing so very quickly. Today they are two weeks old, and so much has changed since they first made their appearance into the world. Although they are still very wobbly, they are gaining strength in their legs, and are attempting to follow their Mama. In perfect Lab fashion, they love eating, and they would probably nurse 24 hours a day if Lily didn't jump out of the whelping pen to take some much needed "mommy breaks" every now and then... Trust me I understand Lily :-) 
Lily really is the best mom imaginable, and she has showered her puppies with love and attention. She has taken meticulous care of her litter and has been very patient with her boys. The pups are doing great with BioSensor therapy, and just today we experienced an exciting milestone that you can see in the picture below. Each of the puppies' eyes opened just a tiny bit, and although everything is still very blurry, soon they will be able to clearly see this great big wonderful world. They will be using those precious eyes to investigate so much in the upcoming weeks and for the rest of their long lives.
We have been eagerly waiting for our sweet Lily's first litter of puppies, and since it is very common for our girls to deliver on their actual due date, we all were preparing for a good nights sleep before labor would begin tomorrow. Well the puppies had other plans, and Lily surprised us all by introducing them to us 1 day ahead of schedule. 
We were also surprised to discover only 2 robust little guys in this litter. We had just found out through a detailed ultrasound that the litter was going to be small, but we are so happy to have the gift of these 2 boys. They are healthy, precious, and completely adorable. Birth is always such an exciting miracle! The 2 brothers are nursing successfully, and they were born only minutes apart from one another.
Lily labored like a champ and apart from a temperature drop, she gave us no signals that labor was beginning. It all happened very quickly, and she did wonderfully for a first time mama. She has been taking meticulous care to keep her new bundles of fur warm and well fed, and apart from momentary potty breaks, she hasn't left their side.
We will be posting pictures and more details in the days to follow. We will also be adding more pictures to Facebook, so if you haven't yet liked us on Facebook, it may be something you'd like to consider. It will be so wonderful to watch this duo grow together!
Wow! It is so hard to believe that we have been busy enjoying Eden's puppies for 3 weeks now. This past week all of the puppies opened their eyes, and they also are able to hear the sounds around them for the very first time. The puppies are still completely dependent on their mama for all of their physical needs, but that will all be shifting soon. This week we will begin teaching the puppies to eliminate in a specific area of the whelping pen, and soon they will be experiencing their first meal of softened puppy food.
They sure have come a long way in just three short weeks! They are starting to crawl around the pen, and soon they will be investigating this great big world. For now however, they are still in the comfort of their whelping pen, close to the security of their mom. It is so exciting to witness the blossoming of each of their personalities, and we are eager to watch the development of the subtle differences that exist from pup to pup.
We will be having our first visitation for all of the families who are expecting a puppy from this litter on Saturday, November 9th. The first visit to meet the litter is always much anticipated and really enjoyable for everyone. These puppies are so sweet, not to mention absolutely gorgeous, and I can't wait for their forever families to meet them. In the meantime, you can see other close up pictures of each of the puppies on the "Current Litter" page of our website.
Praise God for a relatively easy delivery and the birth of 5 very healthy puppies! We would love to introduce you to the litter, so feel free to check out the Current Litter Pagewhere we have posted a formal litter announcement. We will include many more pictures within the next few days, but we wanted to share some of the details with regard to each puppy's weight, ribbon color and gender. We will be updating this website, our blog... Lab Tails, and Facebook. So, please join us in welcoming these new puppies into the world and into your hearts. We hope you enjoy celebrating the excitement of new life along with Eden and our family.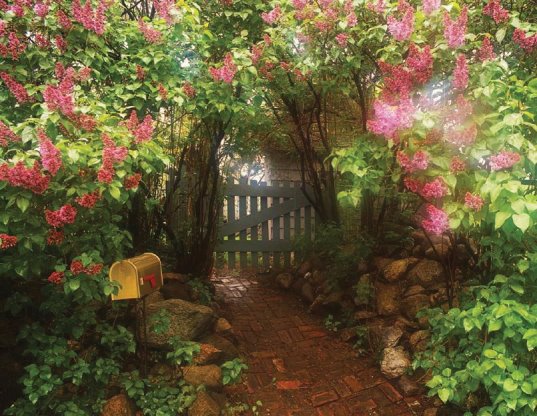 Everything went just beautifully with the delivery of Eden's litter. She whelped a total of 5 puppies. There are 4 girls and 1 boy who are all nursing well and seem to be doing great. Please continue to keep Eden and her pups in your prayers during these next few days, because these are the most critical ones as far as health is concerned for both her and the puppies.
I will be posting more details concerning the labor, and each puppy's birth, within the next few days. For now, we are helping Eden acclimate to life as a new mom, and watching each puppy with diligence. We are so thankful for a successful delivery and pray that each pup will grow stronger every day. Birth is such a miracle, and we feel privileged to have witnessed that miracle again today!
/